Last year David Buckman published his extensive research on the East London Group of Artists in his fascinating book From Bow to Biennale: Artists of the East London Group.  Now here's the exhibition to accompany the book – and it's a corker.
The East London Group of Artists were a very successful gang of painters which existed for over 10 years from the late 1920s.  In their day they were both an innovative and popular artistic movement – but they have subsequently (and very sadly) been passed over by art history.  In their heyday there were about 35 members of the group, mostly working class, realist painters who progressed to phenomenal critical acclaim by chronicling life in east London between the World Wars.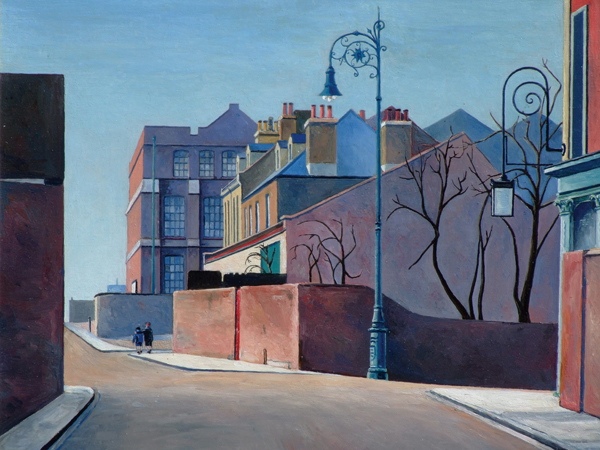 The majority of them came from humble beginnings, but their artistic talent was to flourish under the mentorship of Slade School of Fine Arts trained artist John Cooper, and the Camden Town Group member, Walter Sickert.  Their success led to artists from the group representing Britain, alongside such luminaries as Barbara Hepworth and Gilbert Spencer, at the 1936 Venice Biennale.  This is the first time their pictures have been displayed publicly for over a generation.
Maybe it's because I'm familiar with this part of London, but I found these paintings of eerily empty streets both haunting and poignant.  The paintings convey a tender affection for the area and recognise beauty in the urban milieu.  Reminding me of Edward Hopper's American townscapes – although these artists are unlikely to have been aware of their US contemporary – this exhibition of coolly atmospheric paintings is well worth a visit.
'The East End Group of Artists: From Bow to Biennale c. 1928-1936' is currently showing at the Nunnery Gallery, 181 Bow Road, London E3 2SJ, until 13 July, open Tues-Sun, 10am-5pm.  It's totally free and there's an excellent independent café attached.
I'll be talking about the East London Group of Artists and discussing this exhibition on the Serendipitous Compendium hosted by John Stanford broadcast on Radio Crackle on Sunday 25 May.